Adoption Process:
Note:
Our primary area of adoption is within the state of Florida, predominately South Florida.
The adopter must travel to us to meet the dog.
We will not ship a dog and do not offer delivery services for adoption.
Our rescue dogs must be kept as indoor house pets.
The process:
Step 1: Submit your Application
You must first fill out an adoption application which allows us to get to know a little about you, your home, lifestyle and your expectations of a canine companion.
If you rent or live with a HOA (Homeowners Association) we will contact your landlord or HOA to verify Dobermans are allowed in the residence.
Step 2: Reference check
Once you submit your application, we will contact your veterinarian and if applicable, your HOA or landlord. Your current or most recent Veterinarian will be contacted. Please make sure you've contacted your vet. They need your permission to speak to us. PLEASE VERIFY that ALL your records are present and up to date for vaccines, heartworm testing and preventatives -- this is by far the item that causes delays and issues with moving forward to approval.
(The vet reference is for any pets for which you have personal ownership or responsibility. If you have multiple veterinary sources, such as a mobile vaccine clinic or the like, please provide these records to your primary vet.)
All current pets must be spayed/neutered and up to date on vaccinations. Some exceptions may apply and are considered on a case by case basis.
Step 3: Home Visit
You must agree to allow a DRL volunteer to come to your home for an in-home visit to be pre-approved to adopt one of our dogs. On occasion, a virtual home visit via Facetime, Google Meet or Zoom can be conducted instead of a personal home visit. All family members and resident pets must be available during the home visit or virtual home visit.
This screening process helps us to better match the dog with his or her forever home.
After you have been approved to adopt, we will work with you to find the best match for your family or situation.
Not all Applicants are approved.
When approved, there are no guarantees you will be able to adopt the dog for which you submitted an application. There may be multiple applications for that dog or the dog may have been adopted by the time your application is approved. Or, that dog may not be a good fit for your family situation, e.g., the dog may not be good with children or other dogs, not handle houses with stairs, or one of many other situations. We want each dog to go to a home best suited to that particular dog to assure a lifetime, loving home that is trouble free.
Step 4: Finding the Right Dog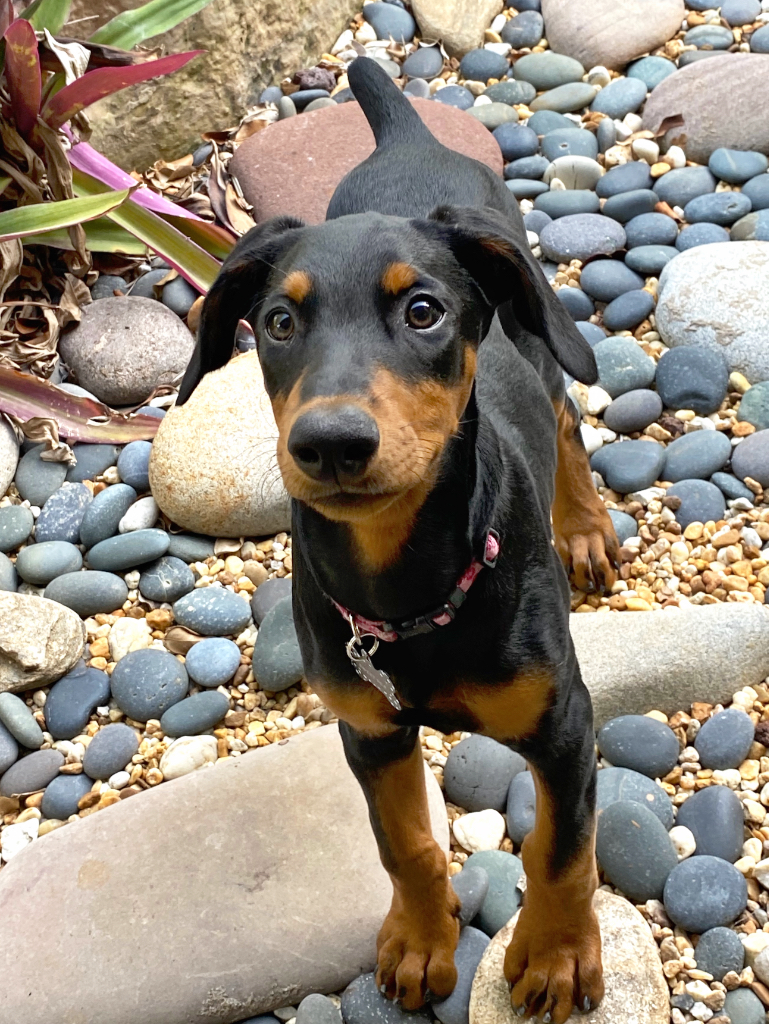 Once you have been approved as an adopter, arrangements will be made for meetings with the dog you are interested in or other compatible dogs. Some dogs will be with foster homes
and some may be in boarding. You are expected to make the drive to meet the dog. You may bring the dog home the same day, but that is not a guarantee.

Step 5: Introduce the Dog to their new home
We know you may feel a bit nervous about how a new dog will fit in with your family and pets. We will offer suggestions to help you work out the transition to a new home. Training is necessary for Dobermans. We expect you to agree to provide training for puppies and young dogs and refresh your older dogs' manners.
We will be in contact with you to see how things are going and are always available to answer questions or talk about problems.
---
Fees/Adoption Donation
Fees are considered an adoption donation. This donation helps defray the cost of veterinary care given to your dog prior to adoption. This care includes some or all of the following (but not limited to): all vaccinations; heartworm testing and treatment if needed; preventatives for heartworms, intestinal worms and fleas; fecal testing and deworming if needed; surgery for spay/neuter and other procedures that may be incidental to these procedures. Some dogs come into rescue with the need for major surgeries or life saving procedures that are unexpected and expensive.
Your adoption donation also helps feed and care for other dogs waiting for an adopter and is NON-REFUNDABLE.
Adoptions are $300.00 and up, depending on the dog.
Seniors (all dogs over 7 yrs old) have a reduced adoption fee as they are older, and may need additional care, such as joint supplements – and we want to encourage families to consider the senior dogs as they are usually more gentle and have lower energy levels.
Bonded Pairs have a reduced fee. Some pairs need to stay together. You would be adopting two (which we love), so ask about bonded pairs! Most of our bonded pairs are older and make great additions to families that want double the love!
Puppies are expensive! Their medical needs are greatest from birth to six months of age. Time is important in raising a puppy. To adopt a pup under 6 months old, it is required that the adopter is gone no longer than four hours at a time, work from home or provide day care to insure housebreaking, socialization and exercise are provided.
---
Payments Accepted:
PayPal
Zelle: (954)946-4100
Venmo: @dobermanrescue-leagueinc
Cash
Personal Checks
---
Microchip:
Our dogs are microchipped and registered to Doberman Rescue League, Inc. for identification purposes. Adopters will be added as a secondary contact.
---
Release/Adoption Contract:
You must sign a legal release form protecting you, Doberman Rescue League, Inc. and the rescue dog.
---
Returning the Dog:
If for any reason you must return the dog or if the adopter fails to comply with Doberman Rescue League Inc. terms of adoption,
WE WILL TAKE THE DOG BACK. YOU MAY NOT TRANSFER OWNERSHIP.
---